FOR IMMEDIATE RELEASE

R2 Controls - Highly Functional Office
R2 Controls has a new 20'x24' office shown below. With several computers running a number of operating systems a lot of flexibility is available. We also have fully licensed versions of Office 2000 proffesional, MathCad 2001 professional, Micrographics Designer 7.1, Front Page 2000, Visio2000, QuickBooks Pro, Axum6.0, VisSim4.5, TK Solver, as well as access to flowsheet simulation & multivariable control software. We have in house color printing of drawings to 19x55inch and large format printing capability from ChromaColor Inc. in Boston. The office provides space for staging equipment, executing engineering work, putting together drawings or documents and provides convenient access for books, references, project files, Fax machine, Printers, Copier, Scanner, computer supplies and other equipment and furniture needed to run an engineering office.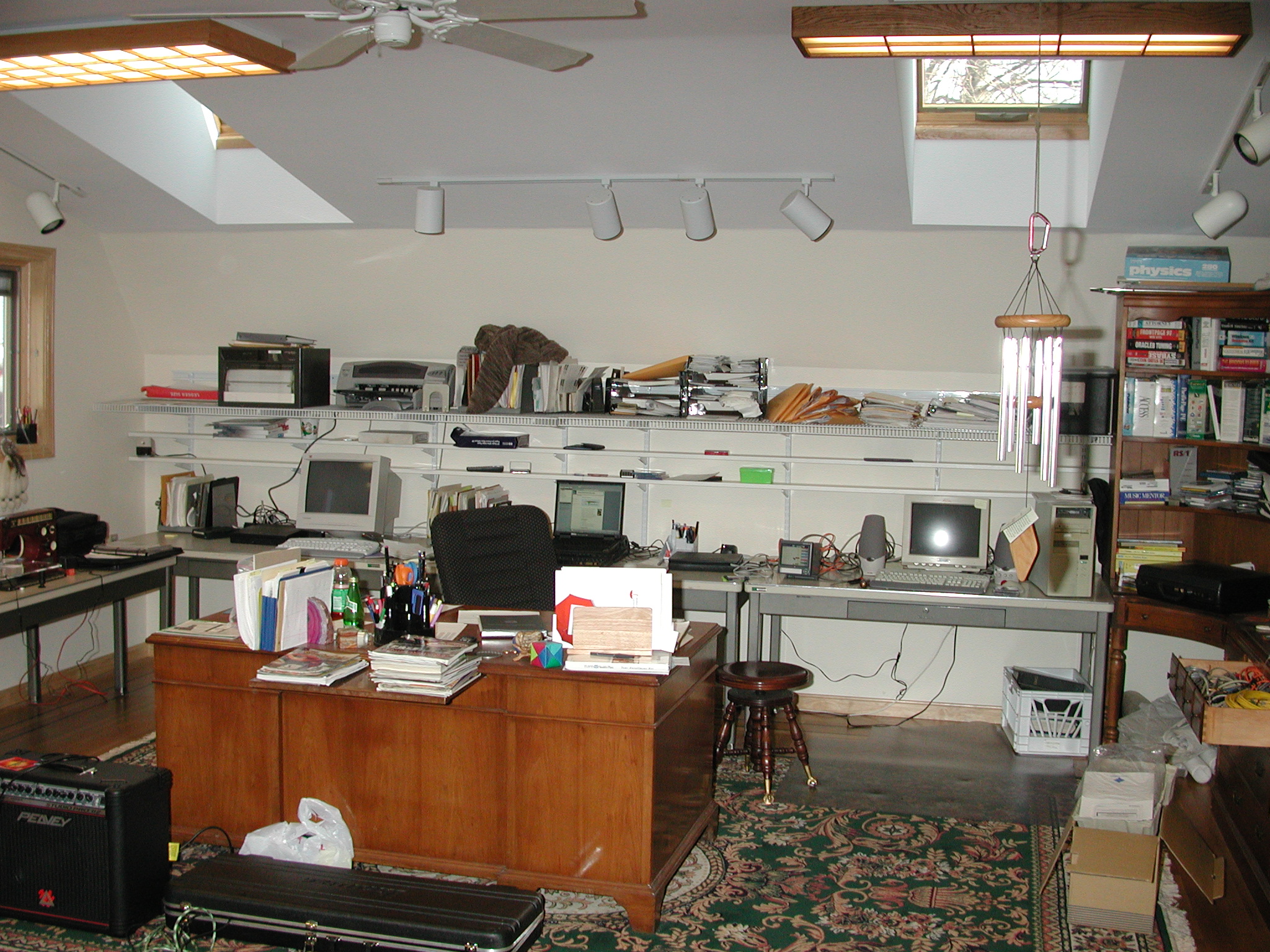 R2 Controls is wired as seen by the new control center with 100Mbit/sec network, Cable modem, and Router to provide high speed Internet access and E-Mail to multiple computers.
Jan 2001 -- Here you can see some of the advanced office wiring R2Controls has used to insure that the latest communication technology can be utilized. Numerous communication outlets are distributed throughout the home office to allow, coax, phone, network, speakers, intercom, RTD's, and general purpose wiring connections. All HVAC wiring is centralized at the control panel to allow future home automation. All first floor outlets have an open 3/4 inch conduit to the cellar below, while all upstairs rooms have similar conduit to the attic space. As seen in the photo above spare 2 inch conduit is used to allow access from any outlet as it travels from cellar to attic space. Maybe someday we'll have fiber optic cables everywhere and a home automation system to monitor and control temperature and humidity in every room.

For More Information Contact:

R2 Controls
128 Mountain Road, Princeton, MA 01541
Tel: 508-369-5186 cell phone
FAX: 508-369-5186 cell phone
Internet: rys@R2Controls.com